The Trenchless Technology process consists of four steps:
First, the lines are evaluated with a remote video camera to determine what's needed to resolve the problem
Next, the lines are cleaned and prepped
Then the liner is pulled into place
And finally, the video camera is used again, this time to inspect and record the finished job.
Trenchless technology is a type of subsurface construction work that requires few trenches or no continuous trenches. It is a rapidly growing sector of the construction and civil engineering industry. It can be defined as "a family of methods, materials, and equipment capable of being used for the installation of new or replacement or rehabilitation of existing underground infrastructure with minimal disruption to surface traffic, business, and other activities."
We specialize in the most efficient processes for clearing sewage, including:
Pipe bursting
Hydro jetting
Drain cleaning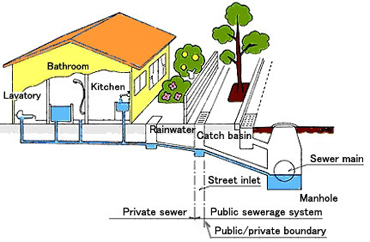 We provide trenchless technology service for Sewer line repair and replacement in Northern Virginia including: Fairfax, Falls Church, Arlington, Alexandria, Seven Corners, Falls Church, Colonial Village, Pentagon City, Crystal City, Springfield, Annandale, Clarendon, Fort Myer, Rosslyn, Va. Call to schedule a free estimate or fill out our online form.
This process presents a less costly and more efficient way to repair underground water line pipes. It allows us to repair faulty drain, sewer, drinking water and steam pipes without excavating underground systems or disrupting the foundation. Trenchless is the less expensive, less time-consuming and environmentally superior approach to rehabilitating your water line pipes.
Sewer drain pipes frequently create havoc for property owners and managers. Sewers back up due to aging lines, root intrusion, calcification and ground movement from seismic activity, costing property owners thousands of dollars annually in damage to their property structures and landscaping.
In addition to the expense and inconvenience, backed up sewage creates health risks such as contamination from mold and harmful bacteria. Backups also cause sewers to overflow, spewing deadly waste into our streets.
When a backed up sewer line occurs, a rapid response can prevent thousands of dollars worth of damage to your yard, landscaping, driveway and home. Interstate specializes in sewer line repair and is both licensed and insured. We specialize in quickly and efficiently repairing and/or replacing underground sewer lines. Our professionals will quickly and efficiently identify your sewer blockage's (or break's) location, then repair the line with state-of-the art technology. Trenchless Technology offers an alternative to sewer drain replacement.